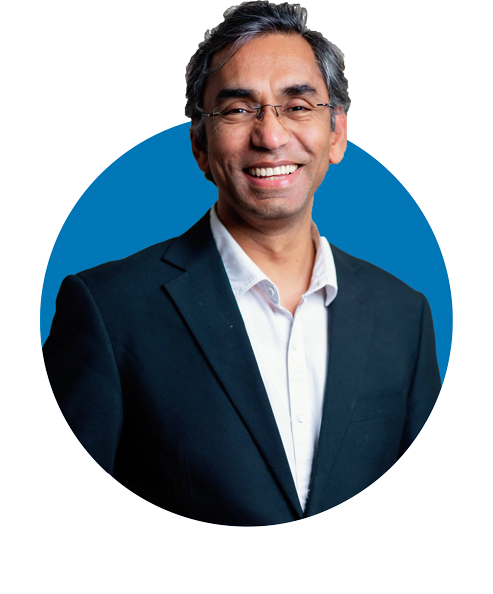 Aditya's comprehensive experience and sound knowledge of building business processes, building high performance teams and delivering enterprise level solutions using various technology stack puts him at a unique position to oversee and lead BizAcuity's strategic initiatives. He has been consulting enterprises with solving business problems using technology, enterprise level data architecture design, business intelligence and data analytics platforms for gaming, financial services and other verticals
Sudhir Pidugu has been a part of the IT services sector for the past two and a half decades, ever since his graduation from the prestigious IIT Kharagpur. After working with renowned companies such as Infosys and Amazon, Sudhir co-founded BizAcuity in 2011, with the goal of achieving excellence in software delivery and assembling an A-star team that shares the same passion. Sudhir's expertise in extracting insights from data using a wide range of methodologies and his ability to build teams with diverse talents and skill sets constitute the foundational pillars of BizAcuity as an organization.
Nishant spearheads BizAcuity's sales, marketing, and financial operations. With a background that includes serving as CFO at Bwin Party and several entrepreneurial ventures in his early career, Nishant brings a wealth of experience to his role. He holds an MBA, as well as degrees in CS and CA, and has accumulated 25 years of professional experience.
With over 17 years of experience across technical and management roles, Rakesh possesses a wealth of expertise in crafting scalable and resilient systems across domains such as Data Management, business intelligence, big data analytics, Artificial Intelligence/Machine Learning. Rakesh's profound understanding of business processes, adeptness in addressing complex business challenges and enhancing organizational efficacy using the latest technologies underscore his professional virtuosity. Rakesh is an alumnus of IIT Delhi, holding a B.Tech degree in computer science engineering.
With close to 2 decades of experience in technology and delivery management, Rahul spearheads the successful completion and timely delivery of projects and upholds the quality of BizAcuity's global delivery model. He has tons of experience in data and analytics, having led many projects on data warehouse migration, designing greenfield Data Warehouses, visual analytics and AI/ML driven predictive models. He provides valuable insights on simplyfing business and technical processes
BizAcuity's partnership with UK's leading SME bank
Silicon India Publication